Precision Powdercoating is the leading service provider of powder coating, paint stripping, and aluminium etching in Perth and Western Australia. We are at the forefront of powder coating technology, techniques, and expertise.
We can provide long-lasting powder coating for metal products or premium protection against rust and corrosion. Through our team of highly skilled technicians and cutting edge equipment, our workshop is able to handle jobs of any size and scope.
Our list of services includes:
Powdercoating
Prime & Corrosion Protection
Paint Stripping
Aluminium Etch & Chroming
Sandblasting
As the top provider of the listed services, we also offer customers competitive prices without sacrificing quality.
Powdercoating
Powder coating is a service that has become a necessity in a multitude of industries due to the protection and the quality of the results that it produces. Generally speaking, the process involves spraying a protective layer onto metallic surfaces. The substance that is sprayed is electrolysed powdered paint.
After coating the surface with the paint, it is then baked at high temperatures to dry and harden. As for what is involved in this process, it follows the steps below:
The material is cleaned and treated in order to prevent inducing contamination in the coating that could result in flaws.
The material is coated using electrostatic spray deposition.
The coated material is placed in a curing oven for drying and hardening, which will result in a smooth, glossy layer.
After curing, the coated material is allowed to cool before being assembled or packaged.
Once the material has gone through the whole process, the result is a layer of hard, durable, and highly protective coating. This will then keep the metal from becoming grimy and stained. Following that, it would be protected from both rust and corrosion of any kind.
The best part is that the entire coating process is one giant, continuous step. This helps us and customers save a lot of time and money. As for who those customers are, they typically belong in several industries in Perth such as:
Automotive
Construction
Architecture
Powder coating is one of the best ways to ensure that materials last as long as possible. Due to the process itself, the layers are resistant to chipping, scratching, and flaking.
Prime & Corrosion Protection
Corrosion is a major concern among manufacturers of metal and steel products along with rust. That's what our prime and corrosion protection services are meant to address. This is meant to be an extra layer of protection on top of what powder coating can provide.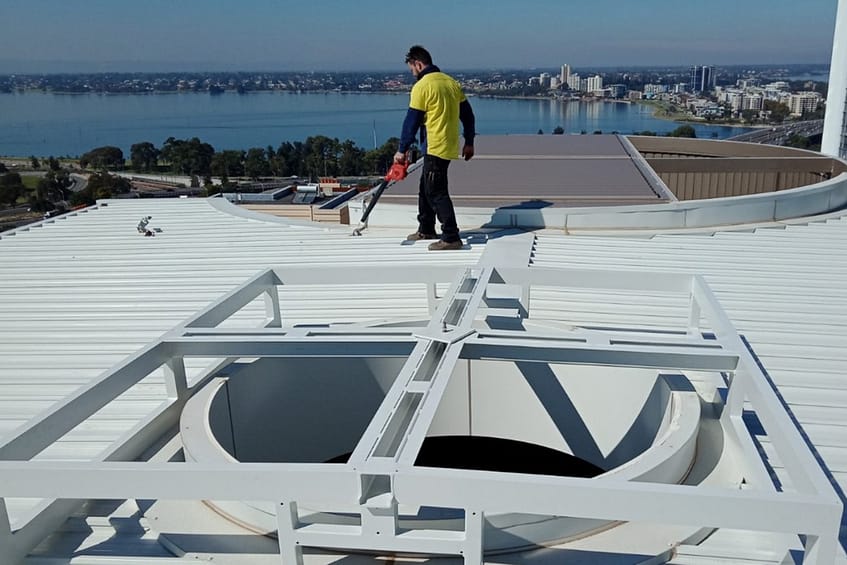 With our prime and corrosion protection services, we can treat aluminium, steel, and other metals. This treatment will then stop air, chemicals, and other contaminants from affecting the materials negatively. For more than 30 years, we have built our reputation on our experience in providing such services and we can now confidently guarantee customer satisfaction.
We protect metallic surfaces from corrosion and rust by:
Treating porous metals with primer coatings
Improving the finishing or powder coating adherence
Saving money by extending the life of metallic equipment, tools, and products
Our prime and corrosion protection services are intended to prolong the use of your tools and equipment as much as possible. It can delay the necessity for repairs, for example, along with replacements.
Paint Stripping
Old, peeling, and dirty paint on metallic tools, equipment, and machines that still work can be replaced. Before that happens, though, the old coating needs to be stripped and cleaned to make way for the new layer.
There's a lot that goes into paint removal, however, and it can be hazardous when done incorrectly. With our professional paint stripping services, though, there's no need to worry.
We have decades of experience and a team of qualified technicians to get the job done properly. Along with our world-class equipment and training, removing old paint to apply a new coating is never an issue. 
We use a variety of different methods in removing paint, which includes the following:
Heat
Chemicals
Solvents
Caustics
Once the old layer is gone, though, the remaining metallic surfaces will be clean and ready for a new coating of paint. There won't be any residue that could result in issues when the surface is painted over again.
Aluminium Etch & Chroming
As one of the most versatile materials available, aluminium is a prime option for etching and chroming. This is one of the services we have to offer for several reasons. To start with, etching is a great way to make plain aluminium look beautiful. 
Aside from that, though, aluminium etching can also help by:
Making the aluminium easier to clean
Improving the material's durability
Boosting its resistance to corrosion
Increasing the number of uses for the metal
Thanks to the natural resistance of aluminium to electroplating due to the film that covers it, etching becomes even more important. It reduces this resistance to make electroplating much easier.
Sandblasting
Sandblasting is a service that we offer, which involves stripping metallic surfaces of old paint, grime, stains, and rust. We do this by using high-pressure blasts containing gritty materials. This will then result in smooth and consistent surfaces of metals.
As for what we use our sandblasting services for, they can include:
Cars
Car parts
Bikes
Motorcycles
Steel and iron furniture
Aluminium tools
Rather than just sand, however, our sandblasting equipment actually use several granulated materials. These include:
Glass bead blasting
Steel grit blasting
Garnet blasting
Using those sandblasting options, cleaning metallic surfaces becomes a lot more efficient. The process itself ensures that cleaning the metallic surface will be done evenly and will reach every inch.
Conclusion
When it comes to choosing the provider of services like powder coating, corrosion protection, sandblasting, or etching, experience is a major factor, which is something we pride ourselves on.
Precision Powdercoating has had 30 years to perfect our ability to meet and even exceed our customers expectations. This allows us to offer the services that we do with the confidence that there are no jobs too big or too small.
Call us at 0892442696 or contact us via email at office@precisionpowdercoating.com.au today and we'll take care of all your powdercoating needs.